I am Shweta Srinivasan, a consulting psychologist and counsellor from Mumbai and this is a post about my story, and how Carl Rogers has inspired me, my practice, and my identity.
It was 2010.
I was an awkward, shy 17-year old. Clueless, yet curious. Feeling like an amateur rebel as I had just made the shift from Commerce to Arts. While I was pleased with myself to have crossed over to the gutsy teenagers club, life was serving me my fair share of chaos with a large portion of anticipatory anxiety and a dollop of self-doubt on the side.
But as clichés would have it, I walked into my first Psychology lecture and it was almost like the chaos had been arranged and stacked neatly in piles, waiting to be accessed some other time. It was like somebody had grabbed a spoon and licked clean those portions of anxiety and doubt. To put it simply, I had enjoyed attending a class for the very first time in my life. I began to feel at ease and with each passing day, my conviction grew stronger that this is where I wanted to be.
Not far along my tryst with Psychology was the day I learnt about Carl Ransom Rogers. My teacher, Mrs. June, in her wonderful interactive style enthralled us all as she narrated his story and the various contributions he had made to the field of Psychology. A picture of his face in my textbook revealed that he had kind eyes and a soft smile, partially bald with wrinkles creasing his forehead. I remember thinking that he resembled my maternal grandfather. The more Mrs. June revealed about him, the greater my respect and admiration grew for this man.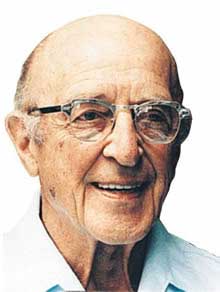 Let me briefly familiarize you with Carl Rogers. He was a renowned American psychologist who founded what is known as Person-Centered Therapy or Client-Centered Therapy. This kind of therapy advocated for a more positive counselling process in which both the client and the counsellor entered into a collaborative alliance, where neither was put on a pedestal over the other. The dynamic between the counsellor and client was one of equality and of a trusting relationship, rather than a contract. This was a revolutionary idea that made its way to the spotlight rather quickly amongst the community of psychologists and therapists. This was an idea that resonated with me too and over the years, as I read more about him, I found myself aligning my values to his.
Carl Rogers taught me to trust people.
He told me to believe that each client already has unlimited strengths and resources to make their own behavioural changes and be well on their paths to unlocking their full potential – to attain what was called self-actualization and become a fully functioning person.
"So what was our job?" – I thought to myself as I was fervently reading up his theories. The answer was to simply create the ideal environment in which those changes could occur.
Carl Rogers was inspirational.
It's 2017.

I'm a 24-year old, conceivably confident and well on the path to discovering myself. I am here to serve individuals with my share of theoretical base in Clinical Psychology, and a larger share of my experiential training in Counselling Psychology. My purpose is clearer and I feel readier than ever to reach out to those seeking help.
Along with consulting in a couple of organizations as a psychologist, I am beginning to see worth in taking the first steps towards building my private practice. This decision came after a substantial amount of soul-searching and self-work, when I arrived at the understanding and the opinion that no institution in the world would best embody my core values as a counsellor than I.
Creating my private practice, I was told, is like creating my brand; and every brand evidently needs an Identity.
So, I sat down with the herculean task of figuring out what my logo should look like and akin to most of my decisions in the counselling sphere, I turned to Carl Rogers for help.
I wanted my Identity to be a symbolization of what I can offer to my clients and what I embody as a counsellor.
A personal eureka moment occurred when I recalled what Rogers has been teaching me in this respect all along. He had said (like I mentioned earlier) that I as a counsellor can create an ideal environment for changes to occur, for feelings to be expressed, and for potentials to be discovered. In order to do so, he had proposed 6 important conditions that help facilitate change within the therapeutic space, out of which 3 conditions were emphasized upon more strongly than the others across the years.  
To put it briefly, the 3 conditions were as follows:
– Unconditional Positive Regard: The therapist has to be accepting of the client's experiences and expressions of emotion – both positive and difficult ones. The therapist sees clients as worthy individuals by themselves, valuing them as human beings separate from their actions or behaviour. This helps to create an environment where the client is able to freely share without the fear of evaluation or judgment.
– Empathy: The therapist needs to be able to understand and recognize the clients' emotional experiences, and communicate this understanding back to them without getting involved in or swayed away with those feelings. I can best describe it as a state of "compassionate detachment" wherein the counsellor is able to place herself in someone else's shoes and connect with their subjective experience, while also having the constant awareness that at the end of the day, these are the client's shoes – not the counsellor's.
– Genuineness or Congruence: The therapist must be self-aware, regulate her own emotions well, and be true to herself within the counselling space. There needs to be a congruence or an equivalence between what the therapist feels about something and what she expresses to the client.
These conditions are meant to be imbibed by the counsellor as her nature and a way of being with the client, not as facades that are erected temporarily since that would be futile to the whole process and honestly, just bad practice.
Finally, I aimed for these 3 conditions to be depicted in the form of a logo somehow. I came across a Venn diagram of 3 concentric circles representing these conditions and immediately knew that I had hit a goldmine.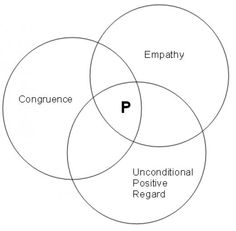 With some polishing, some time and effort, and some creativity, this idea was transformed into a unique symbol that beautifully captures my intent and my core values as a counsellor.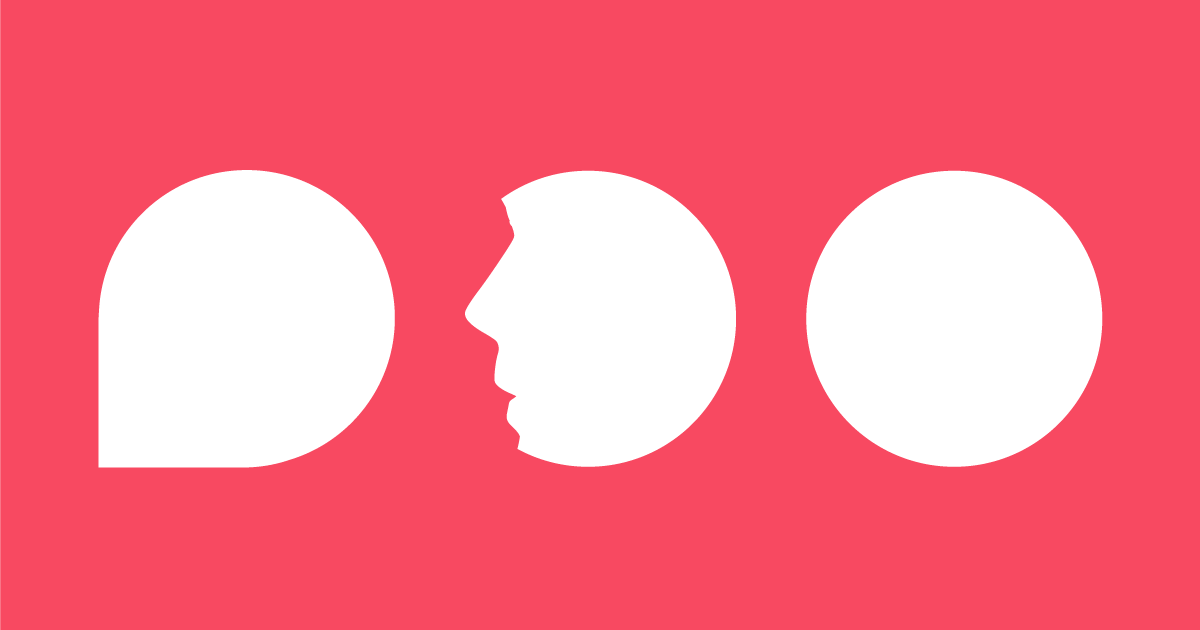 My logo as it is today aims to offer a two-fold depiction:
(1) It is a modified version of the concentric circles that represent Rogers' 3 facilitative conditions for building and nurturing an effective counselling relationship.
(2) It is the coming together of what I wish for my counselling space to be enriched by, that is:
– thought and emotion (depicted by the blue circle),
– conversation and communication (depicted by the green speech bubble), and
– the essence of the person (depicted by the negative spacing on the right hand side of these two circles).
So maybe, I misspoke earlier. This is when I truly felt like I had hit a goldmine. I feel absolutely elated that I was able to create a symbol that became a seamless marriage between my core values and what I intend to offer to my clients. Clearly, Carl Rogers has been influential.
I feel ready to take this plunge and explore my work through independent practice, knowing that I have the support of my teachers, mentors, peers, and family members. They have left lasting impacts on my learning and my life, encourage me every step of the way, guide me when my values are misplaced, and believe in me immensely – which gives me the strength and conviction to believe in myself a little more each day.
I feel ready to work harder, learn more, make mistakes and constantly improve, gather the experience, connect with individuals, and contribute to helping them in the best way I possibly can.
I feel ready to be offered the privilege of taking the journey into my clients' inner world and guide them as they resolve problems and discover their potentials.
Carl Rogers, I owe you one. I hope I can do justice to your ideals.